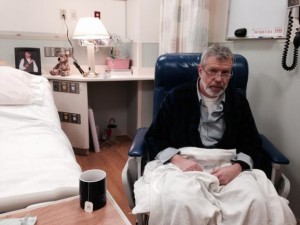 Presenting a caregiving program out of New Hampshire's Dartmouth-Hitchock Medical Center: trained actors pretend to have Alzheimer's, other dementias, or Parkinson's in order to teach family caregivers strategies do a better job. Here's how it works: caregivers are given a scenario to act out–perhaps coaxing Mom to take her medication, get dressed or change clothes. The actor is Mom and you are a frustrated and running-out-of-ideas adult daughter, perhaps. Or, you perform brilliantly.
Either way, the actors and fellow caregivers critique your "scene" and make suggestions so that when that situation really occurs, you have more effective strategies.
Here's the piece from my weekly AARP blog:
Training medical students to do a better job by using actors to play patients is not new. But at the Dartmouth-Hitchcock Medical Center, actors are faking dementia and Parkinson's  disease to help family caregivers be more effective — and that's downright novel.
Last month, 16 caregiver spouses gathered at the hospital's simulation center to boost their communication skills with a loved one. These husbands and wives were dealing with challenging behaviors and wanted help solving real-life issues. In the process, the group also learned what it's like to be the one impaired.
Each participant was videotaped in a pretend scenario with an actor (made up to look the part) who refused to get dressed, say, or was exceptionally negative. After the role-playing, the actors and fellow caregivers offered feedback on the caregiver's body language and interaction — what worked and what didn't. "Family caregivers are often thrust into this role of providing medical care without medical training," says Justin Montgomery, a clinical nurse and nurse practitioner at Dartmouth-Hitchcock's Aging Resource Center.
One caregiver in the two-session program was Myra Ferguson, whose husband has Parkinson's. While she has had experience with the disease — her father also had it — caregiver boot camp reinforced her skills.
Ferguson was asked to play the sister of a patient/actor with Parkinson's who didn't want to put on a sweater or take her medicine. "My job was to encourage my 'sister' and tell her she could do it," says Ferguson.  The feedback was positive — and useful. "I saw that I could be gentle and patient," Ferguson says. "My colleagues liked that I used humor and made jokes to turn things around."
Dartmouth-Hitchcock plans another round of caregiving sessions this spring and hopes to have more in the future. The training program is part of a federal grant through the Health Resources and Services Administration. "I was feeling really alone and lost before the boot camp, but it was like a support group for me," says Ferguson. "It was also wonderful that I was learning to be a better caregiver."
Photo by Charlotte Albright/Vermont Public Radio
Would this kind of program appeal to you? Thoughts, please!