November 5th, 2013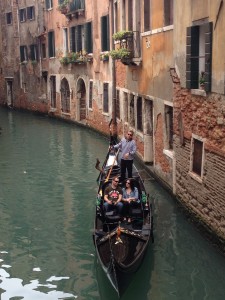 I'm back from Venice, where the museums, architecture, music and scenery are gorgeous. If you have a mobility issue, though, the steep steps on the hundreds of walking bridges are a killer. I thought about this as I saw older men and women, and parents with baby strollers, navigate with difficulty from street to street. Note to Venice officials: An elevator on those steps would be handy. 
When I'm not traveling to Venice on vacation ((did I mention Verona and Lake Como?), I've been putting in a little time on the office keyboard. Here's a sampling of some of my recent pieces on aging and boomers for AARP, Intel-GE's Care Innovations, and the Boston Globe Sunday Magazine:
CAREGIVING: 
Does Caregiving Help You Live Longer? (Hint: it just may) 
Who Cares? Boomers Don't Want to Live With Their Adult Children, Either! (big surprise)
Creative Aging: Let Me Paint the Picture (it's a pretty one)
WORK:
Ready for Your Encore Career? (read this before you say "no")
Talking to Your Boss About Caregiving (how? carefully!)
HOUSING:
Introducing the Retirement Commune (cool!)
Out soon: A piece for a national venue on technology for aging in place! Stay connected!
And more: I'm writing and consulting for companies marketing to boomers and seniors.